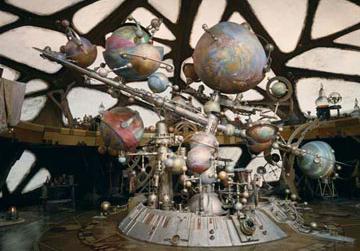 I've always wanted an orrery. Perhaps not exactly like Aughra's orrery in The Dark Crystal (for a start, where would I put it?) but I'm fascinated by the idea of a mechanical representation of celestial motion.
Did you know:
That it was called an orrery after the Earl of Orrery commissioned a mechanical planetarium as a gift for his son in the early 18th century?
That you can buy your own working orrery, designed and made by Brian Greig, who created the gorgeous Tellurion at Sydney Observatory?